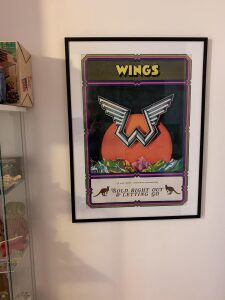 Ever since I can remember, even before I had hair I could sit on, I used to wander around record fairs and shops with my 'Wants list'. A sheet of paper where I had listed in order of desirability, all the things I most wanted to enhance, or complete my Beatle collection.
At Number Two was film footage from the Double Fantasy recording sessions, which, a few years ago I finally got a copy of. Sitting at Number One on my list was a poster from Wings 1975 tour of Australia.
Being ten years old at the time I never got to see this tour. I've mentioned it before, but it's too funny not to relive.
I have a vivid memory of sitting in my brothers bedroom, pleading with him to get me a ticket and take me. He declined. In an act 'VERY' out of character for me, I became dramatic and borderline hysterical. I told my brother if he didn't take me, I would suffocate myself with a pillow, THEN tell mum and dad it was HIS fault.
His response was a firm 'I don't think so', so I grabbed a pillow, and in front of him held it up to my face.
After about thirty seconds I thought, 'Ewww, this is very hot and uncomfortable'.
Pulling the pillow away slowly for an even more dramatic effect, so my brother could see I was serious, what I heard was the front door closing as he left to go to soccer. ?
Fast forward forty six years, and thanks to Greg and especially Richard, I now have the poster, and it came back from the frame shop yesterday. It looks amazing.
The moral of the story is, 'Patience (if not pillows) is a virtue'.
?? ??