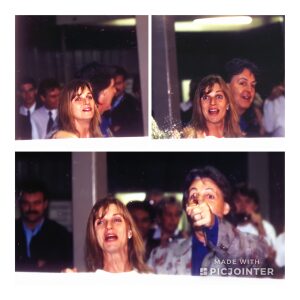 Today on what would have been Linda McCartneys 80th birthday.
They say beware meeting your heroes, lest they disappoint. I'm here to tell you, sometimes that concern is unwarranted.
I'm one of those strange breed, a Paul/Linda/Wings fan as much, maybe more, as I am a Beatle fan. From my first days of falling in love with The Beatles, I was always drawn to Linda. She was the unfashionable, the unliked, the picked on, the easy target, the marginalized. I felt a kinship I guess.
I'd be watching Countdown, and there would be Linda, a maternity frock, knee high rainbow striped toe socks, and open toe platform heels, and above that, her unshaved legs. My mum would walk through the lounge room with a smile and say, 'Oh Linda, she loves being a plain Jane'.
From the get go I recognized Linda as a fashion terrorist, and I'm pretty sure I recognized her 'So what' attitude.
I'd happily make an argument that Linda was one of, if not the first female punk, or, 'rock chick' in a band.
People swoon over Courtney Love, Chrissy Hynde etc, they're lauded, they're respected (rightfully so), but, what about Linda?
Here she was, no musical experience.
In 1972, Paul said, 'Do you fancy being in a band?'. She was shown the chord of C, and that was it, sink or swim. She was not a natural musician, she was not a natural singer, but, in an attitude that truly was punk, she just went for it and didn't care, or didn't seem to care.
Years later talking about the relentless bile, scorn and judgement that was constantly thrown her way, she commented, "Sticks and stones will break your bones, but words will break your heart".
So there Linda was, on stage, only been learning the piano about four weeks. Bare feet, hairy legs, mix matched clothing, sometimes Paul's (as he too would wear Linda's clothes), and unflattering glam make up . . if she wore make up at all.
Touring the world, being, and learning onstage, and the not so small matter of raising three children at the same time, with no real nanny's or help.
All the while being pilloried for doing nothing more than falling in love, marrying, having a laugh, and daring to have a go.
Imagine having pretty much the worlds press universally disliking and judging, and your husbands fan base, which again, numbered in the many millions, actively, physically and vocally disliking you. But Linda maintained a 'Get on with it' and 'Who cares what other people think' attitude.
What's not to admire about a person like that.
By 1976 Linda was a member of what was arguably the biggest band in the world. She'd flipped a finger to her detractors, and she was holding her own in front of crowds and critics of up to seventy six thousand people a night.
On songs like Silly Love Songs she was carrying complex harmony vocal lines, and replicating difficult string section parts on her keyboards. On other songs like Maybe I'm Amazed and especially Medicine Jar, her playing of the Hammond B3 rocked.
The important thing however to remember is, Linda never sold herself as anything other than a punk. She never, ever sold herself as something she wasn't.
When asked about her skills, Linda laughed and said, "Are you kidding! most kids in high school can play the tambourine better than me, but I'm there for support, I'm the rough edge".
I think a lot of female musicians owe Linda a debt of gratitude.
Fast forward to 1993, Paul and Linda are back in Australia and touring. There is a whole book I could write about that month, but for now I'll mention just a few observations.
As far as meeting your heroes and having concerns of feeling let down, that could not have been further from the truth with Paul, and especially Linda.
The Australian tour wasn't like America or Europe, the security was ever present, but very relaxed.
Before the tour commenced I wrote a letter. I kept it on me at all times in case I ever had the opportunity to hand it to someone, anyone, who might be able to get it to Paul and Linda. In this letter I explained how much it meant for myself and other fans in Australia to finally see them. I explained how I had become vegetarian, and the story behind it.
The first night they played in Sydney I had a ticket that got me into the soundcheck, and access to dinner in the VIP area.
At the conclusion of the soundcheck Linda walked up towards us, to talk to a technician. I took the opportunity to ask Linda if she would autograph our albums. She explained that she had to race out to do an interview, but if we gave our items to her assistant, she would see if she could sign them later.
Before handing over my album, I slid my letter inside it.
Later that night at the concert I was front row centre (natch).
At the encore when Linda came down front to take a bow, she walked over to me, leant forward and said, 'I read your letter'. I didn't quite catch what she said, she repeated, 'I read your letter'. She put her hand over her heart and pointed to me. For anyone that would be acknowledgment enough, more than anything I could ever have hoped to ask for.
After the show I walked back to the VIP area. Back at my table, there, before me at my place were all my albums and items, beautifully signed with the most lovely and personal inscriptions from both Linda, AND Paul.
Incredible.
But, my letter was missing.
The next day, waiting at the stage door for Paul and Linda to arrive, she drove up first. Linda walked over to me and again said, 'We read your letter'. Amazingly, Linda stood there and quoted whole tracts of it back to me, discussing different points, how moved they were, and how much it meant to them. She then said if it was okay she and Paul were going to keep it, and they would love to publish some of it. I wasn't about to say no to Paul and Linda.
I asked Linda if she would pose for a photograph for me. For the first time in our by now many interactions, I was actually nervous trying to focus my camera. Linda walked over and explained you rock your finger over the shutter, never push the camera down. The photo came out great, but if you want to see it, you'll have to come to mine, as it's too personal to share around. Free photography lessons from one of 'thee' greatest female photographers of all time?, yes please.
A few days later it was old friends week as Linda arrived at the stage door and came to say hello. Standing next to us with his mum and dad was this little boy Dylan, about ten.
Linda knelt down to say hello.
Dylan was chatting away and said he was vegetarian. His parents confirmed he was, it was all his idea. Linda stayed at his eye level speaking so lovingly, kindly, compassionately and enthusiastically to him.
Linda said her goodbyes.
About half an hour later a roadie came out with his arms piled high with t shirts, records, CDs, and beautiful photography books. He called out, 'Is there a little boy here called Dylan?', we pointed to the lad, and the roadie walked over and said, 'This is all for you, it's from Paul and Linda'.
Upon inspection, everything was inscribed by them both with messages of love and encouragement, 'For Dylan'.
In Auckland I arrived at the airport just before Paul and Linda walked out. They were so excited to see me, thankfully a friend captured that moment on camera.
The last time I saw Linda was at the concert the next night. Again, I was front row.
As she was leaving the stage for the final time she walked over to me, pointed, put her hand over her heart and mouthed, 'Thank you', then bowed.
I'm 'so' glad I got to tell Linda I loved her and how much she meant to me, she deserved that love.
L.I.L.Y