POISE:
Some people only need one name for instant recognition, Diana, Elvis, Jocelyn, Obama and of course 'Marta'. It's been four years since Marta featured in a fashion spread on the pages of my Blog, four years where her star has risen even higher in the sky. The first photo is Marta, it's the poise, the arrogance, the 'fuck you' stance. The crisp white scarf is almost clinical in it's perfection, in it's lines, The black polo neck harks back to the beatniks and the existentialists of the early 1960's. Being a friend of fur Marta wears a faux sheep skin jacket that probably came as a one off from Stella McCartney. Marta owns this scene, she is to be followed, she is to be heard, she is, quite literally, our very own Maggie Taberer.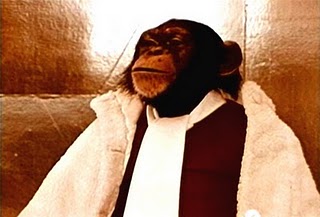 BALLET AND LACE:
More detail on the frock will follow in the next post, but first i want to highlight Marta's ceaseless push for the world to wrap their legs in white stockings, be they lace, nylon, silk .. whatever, just so long as they are white, because everything else is highlighted by them, i wouldn't mind guessing that's a glimpse of garter at the top her leg, or perhaps an unlaced truss. Not sure where she has them made, but Marta's foot ware is always like no other persons on this or any other planet, the male size 15 foot she has looks so delicate here as its set off with a ballet shoelace tie.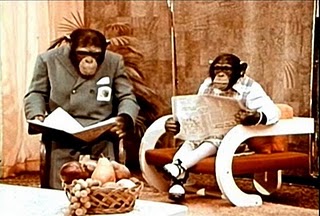 SO 1973, BUT IN 1969:
What to say here?, Marta is all business, with it's 'Tetris' pattern and slight hounds tooth shading around the line of the grid, Marta looks to confuse us here, and thrown we are, the low and wide cuff suggest a slight nod to the bell bottom of the sixties, but Marta does our heads in by having then on her sleeve cuffs, the drop earrings soften the harsh, possibly metallic necklace, with our primate princess it's all about mix and match.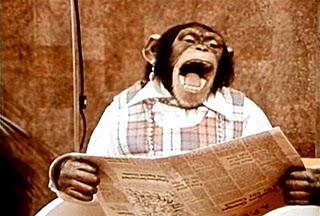 ARABIAN MISTRESS:
Marta risks getting sand in her Manolo's all for the sake of glamour, no one before or since has made beige work like Marta, it's a theme with her to push her beauty through this vortex of banality, wisely she goes for light coloured bangles around her wrist that wont attract heat, but the fashion masochist See's her back wearing her full metal frame sunglasses, I'm sure the lenses were searing through her retina's like a child with a magnifying glass frying ants, but Marta does not give a flying fuck, if cataracts mean she's gonna look like her fashion face furniture does not suck, then pass her the white cane of glamour. Did anyone think for a second that Marta would appear in the desert without in your face earrings?, didn't think so. It's interesting to note that while shading most area's of her face, the one area Marta wants in the direct desert sun is her Cindy Crawford beauty spot, in Marta's heart that spot can never be too dark.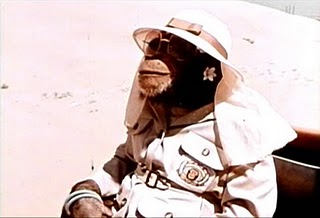 KITCHEN HAND:
In a down home moment Marta makes a mock breakfast to show off her earthiness, but Marta fools no one, least of all her devoted fans, who else but Marta would have heavy lace stockings around such flammable hardware, a mini skirt is functional so as not to get caught in the undercarriage of any white good appliances. A white apron is draped over the mini skirt in tribute to 'Little Edie' and I'm betting my left nut Marta left that apron on the whole day even when she went out later that evening. A highlight is the Lacroix-esque puffy sleeves that pre dates the designers use of them in 1986 by about twenty years, in your face .. in your fucking face!. Marta can't get a fashion shoot in without toying with your mind, by casually leaving her industrial patent leather hand bag on the kitchen counter, it's all about smooth surface kitchen chaos.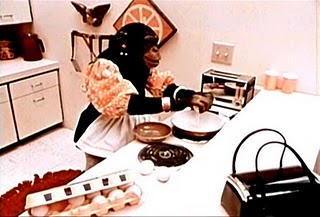 ROLE PLAY MARTA:
Nobody said super model simians had to be conservative, here Marta, just for shits and giggles, Don's a nurses outfit, if truth be told I'm hard pressed to think of anyone who hasn't slipped on a white uniform and done a little suppository digital rectal penetration role play, but as ever Marta grabs fashion by its shedding fur and fucks with your head, no one can tell if Marta has hacked at her patented white stockings here to deconstruct them, is it something of a sanitary nature she's picked at and draped over her legs?, or is it a bandage she's pulled from a child's stuffed toy that had been filled with medical waste from India?, Marta gets off on the tension, and you know we'll never know for sure.