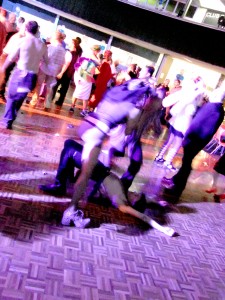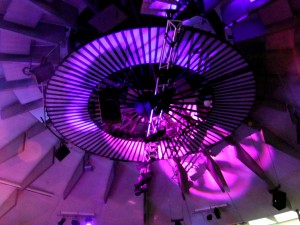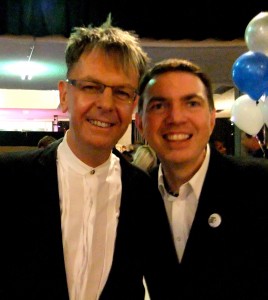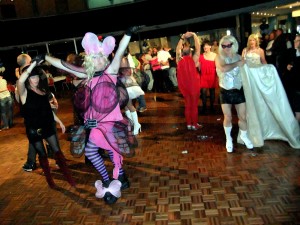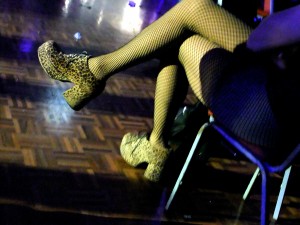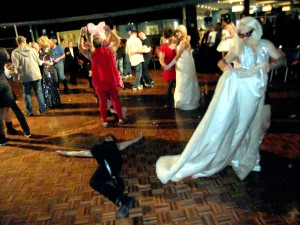 Oh Pollys, let me count the ways how i love you. As someone past my 'Clubbing' phase, i still enjoy a healthy dose of social intercourse and busting a worm move on the dance floor, and every time a Pollys dance is on, i lay back and think of England .. i also think of a few other things, like .. "I wonder how long i'm going to have to wait till i hear Amarilo?". I was not disapointed at the August dace, i was 'Sha la la la lah lah lah lah-ing' before i knew it.
It truely is the last bastion of frameless queer community in Sydney, a little oasis of a time and era that ddin't need to end with so much collateral damage. Polly's maintains that little island where attitude is left at the door, or slapped out of your bottom on the dance floor, imagine a high school formal where someone laced the cordial with LSD, and there was an explosion in an op shop, and make up factory from the 70's .. that's the look and feel of Pollys, and i feel perfectly at home.
One last thing, everyone should go just for the drag terrorism, again drag without attitude (Fuck you uppity cruel drag queens, you insult me with your base humour), but a sense of freedom and fun, which is what i thought drag was supposed to be. I was watching the shows from the side of the stage, at one point i could see the audiences eyes widen, smiles plastered across the punters faces, at Pollys that can only mean one thing 'Drag Malfunction'. Of course we weren't let down as i looked upon the stage to see a queen cupping her nuts in one hand, whilst 'Spirit fingering' with the other. Her gaffer had given way, and she had popped a tossel, all without missing a beat or a spirit finger, now THAT'S a professional.