Posts Tagged 'The Princess'
Tuesday, August 23rd, 2022
Tags: 2022, Australia, Australian television, Brisbane, Camp, Cinema, Dining, Docplay, Documentary, Drugs, Elizabeth Street, Facebook, Fair day, Fashion, Feet, Flinders Street, Food, Gay, Gold coast, Guys, John Waters, Kings Cross, Lesbian, Linda McCartney, Mardi Gras, Melbourne, Men, Midsumma, Movies, Newtown, Pandemic, Porn, Retro, Social media influencer, Stoner, Sydney, The Princess, The Royal Family, YouTube
Posted in Uncategorized | No Comments »
Sunday, August 14th, 2022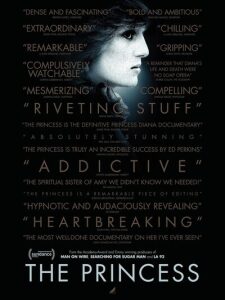 A movie review.
Tuesday 21st of November 1995.
I was busy at work that day, but my focus was on only one thing – watching Diana's interview which was going to be broadcast live in Australia at the same time it was being seen in the United Kingdom. We set a television up in the office, and as the time drew near, more and more people filled the room. It seemed everything stopped so people could watch this. As the interview progressed, viewers asked me for clarity and opinion as it was known I had loved and followed Diana from before the engagement.
When Martin Bashir asked the question 'Do you think Charles will be king?', Diana hedged around the answer said, 'I think he would find the top job very limiting', I turned to the room and said, 'Mark my words, she will be dead within eighteen months'.
This morning I went to see the new documentary 'The Princess', directed by Academy Award nominee Ed Perkins. If at all possible I urge you to go and see this movie at the cinema. It's a big story, and it needs a big screen. In truth I hadn't read much about it, so I went in cold, not knowing what to expect, maybe the usual collection of well known clips and narrative? What I saw had me sat in the cinema chair for a good ten minutes after the last credit rolled, shaken, contemplating, sad, forlorn, a sense of loss and resignation, but most importantly, an educated reminder of why Diana won my heart, and why I will always hold her dear.
The viewing was very personal to me, my life arc followed Diana's, she was only four years older than me, so I lived this in real time, and it gave me a real sense of a long passage of time, and in that time, a lot has changed. Somehow or other the director weaves a story by focusing on signs that were there, and when looked at again with the hindsight of all those years passed both during and since, those signs were all so incredibly obvious.
The uncomfortable truth is Diana was drawn in as a convenience for the establishment. She came from a family where there would have been 'some' level of understanding of Royal life, but Britain needed an heir and a spare to the throne, and Charles needed a bride of virtue and no past, two things his long established mistress Camilla lacked.
Diana I believe was caught in the tail of a comet that came from the Victorian age. With vestiges of a time quickly fading, but not fading quickly enough for her, for at the same time, women were finally starting to be taken seriously, strong, independent, opinionated voices. In the middle was Diana.
The camera lingers on the couple during their wedding eve interview. When asked 'What do you have in common', they both offer up 'the outdoors'. Then comes an interminable silence. At this point I was reminded of a scene from the movie 'Best in show'. When Jennifer Coolidge's character and her vastly older husband are asked the same question Charles and Diana were, Jennifer pauses and says 'We both like soup'.
Many scenes are from the camera person's perspective, those that followed, those that stalked, those that gave chase. The movie was only two hours long, but even that short perspective of chaos, bustle and intrusion was enough for me, I felt stressed and claustrophobic. I cannot imagine twelve years of that.
She had become a commodity, where even respected photographers like Arthur Edwards were speaking of her as a person without feelings, who was scorned and belittled when she failed to comply to their unachievable demands. I kept defaulting back to the fact that here was a woman, who was nineteen years old when she was drawn into this insanity, who as a six year old literally watched her mother drive away to become for the longest time a distant figure in her life. In 1980 trauma, anxiety and self harm were not understood, let alone tolerated.
Conspiring family from both sides brought she and Charles together.
Diana looking for a Prince, stability and security, Charles looking for someone to placate his nagging family.
We're back to that crossover world, between the old and the new. Charles all along only truly loved Camilla, Diana knew this shortly before the wedding, but it was too late, 'Your face is printed on the tea towels'. Charles I think came to resent Diana for nothing more, other than she wasn't the person he'd always loved. Diana herself stated that once Harry was born Charles never touched her again.
Again the filmmaker gives a subtle nod and dig to family callousness by inserting footage of the family hunting, the point was not lost on me.
I was most impressed that this film did not seem to go out of it's way to be 'Pro Diana' and 'Anti Royal', it didn't need to, the footage and audio, all of it undeniable, did that job all by itself.
We see Diana start to get her feet and voice. We see a woman do things that no other person in that family had ever done.
Diana found her niche, championing the downtrodden and disenfranchised, but the Royals found these interests to be vulgar and beneath a person of her standing.
Going to a polo match fine, holding an AIDS patient's hand, not so fine. Hunting and slaughtering majestic birds and animals fine, sitting with a homeless person under a bridge at 1.00am, not so fine.
I have a vast Audio Visual archive of Diana footage, and I must say, the director has found and utilized a lot of different angles and film of events I have never seen, including a short, but insightful interview from Angola in early 1997. It shows a strong woman, a focused woman, a person on the cusp of something probably great and profound.
Watching this movie, my long held belief and understanding, literally from the moment the events of August 1997 unfolded, it was clear, and very obvious that as long as Diana was around, Charles and Camilla would be forever in her shadow. I knew this in 1995, I knew it in 1997, and I know it now.
The outpouring of grief by the general public is shown to great effect, and it helped me to tie together my often scattered and emotional thoughts of what happened that week.
Yes, we cried for Diana, I personally can only remember one other time in my life when I have cried so genuinely. I now understand we were also crying for ourselves, for the loss of that small corner of our hearts that dared to hold out hope in fairytales and happily ever afters, call it the last of our innocence.
This movie is about Diana, but it is about so much more; our human nature, our failing ability to be steadfast in 'some' principles. In an all too often cruel, nightmarish world, what do people love almost as much as a fairytale? A story of redemption.
What happens when after five days the Queen and Phillip finally appear? They hop out of the car, walk around, point to a few bouquets. The previously incandescent crowd turns in the snap of a finger to one of (it could be argued) cloying forgiveness.
Is 'forgiving and forgetting' an always healthy and appropriate virtue? I think it's the lazy and unchallenging way out sometimes.
The brilliance, and subtlety the director brings to this movie is once again displayed in a blink-and-you'll-miss-it shot of Phillip taking a bouquet of flowers, without a look at the card or appreciation, stoops slightly forward and rather uncaringly throws them down on the enormous sea of blooms stretched out before him.
Walking in to work on Monday the 1st of September 1997, from my workmates who I had viewed the interview with eighteen months previously, I was met with a chorus of 'Don't say it! don't say it!'.
In a world where we're distracted for at 'most' five to seven days in a news cycle, we move on from war (Ukraine anyone?), children being blown away en masse in schools (what's the tally this month?), why would we be principled enough to hold firm and take a stand for just one woman, but in this case I choose not to forget.
That woman, that Princess, had a name, and her name was Diana.
Tags: 2022, Australia, Australian television, Brisbane, Camp, Cinema, Dining, Docplay, Documentary, Drugs, Elizabeth Street, Facebook, Fair day, Fashion, Feet, Flinders Street, Food, Gay, Gold coast, Guys, John Waters, Kings Cross, Lesbian, Linda McCartney, Mardi Gras, Melbourne, Men, Midsumma, Movies, Newtown, Pandemic, Porn, Retro, Social media influencer, Stoner, Sydney, The Princess, The Royal Family, YouTube
Posted in Uncategorized | No Comments »