Thanks to Claustral for the above photo.
Over the last few days i've been moving some stuff out
of my old room at my mums house, under the dust and
spider webs i found a pile of my old music magazines
from the late 70's/early 80's, i was totally blown
away when i found my collection of clippings and
magazines on the Aussie band 'Jimmy and the boys'
I hope you all remember this
outrageous band, they were wild, out of control but in looking back they were a great band. Their shows were equal parts theatre and punk, i
was, and AM, devoted to their cross dressing
keyboard player 'Joylene Thornbird Hairmouth'
Joylene used to faux disembowel herself on stage using
offal, all the while Iggy the lead singer would be
burning baby dolls around her.
In 1980 Joylene ran for the senate and i remember my
sister who worked for the electrol commision at the
time keeping me up to date with Joylenes progress, i
just found the below info on the net, Joylene v's
Fred Nile!! (Where are you now Joylene!? we need you in
the senate now more than ever!)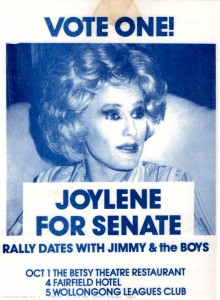 1980
SENATE
NEW SOUTH WALES 3,184,997 enrolled, 2,999,196
(94.2%) voted
=======================================================
Five senators to be elected: Quota for election
452,977
——————————————————-
Fred Nile CTA 110,940
04.1 Group A
Joylene Hairmouth 4,334
00.2 Q:0.010
2nd count: McClelland's 754,205 surplus votes
distributed
————–
Nile 430 (00.1) 111,370
04.1
Hairmouth 31 (00.0) 4,365
00.2
——————————————————–
> 754,205 2,717,858
——————————————————
Classic!! over four thousand votes for a drag queen
way back in 1980!, remember .. this was way
before Priscilla, The sum of us, Queer as folk etc, Joylene
was at the forefront of all that came after.
I remember as a fourteen year old sitting up in the
school library with my friend Vinnie making up 'How to
vote' pamphlets for Joylene with a drawing of her on
the front, i absolutely mastered colouring in Joylenes
patented beehive curved wig ('The Blade' as we called it)
somewhere during one of my moves i lost the last of
these drawings, i still had one up until a couple of
of years ago, i remember one
of the policies was 'Put a scone in parliment'
I think i even wrote a song about her, one of the lines
was 'She's the queen of the queens'.
To this day whenever mum comes back from the hairdresser
and she's worried her hair is a little over teased, mum
will ask us 'It's not too Joylene is it?'
My friend Ves once told me of a game .. 'You should have
known you were gay when …. ' where you think back
and list the obvious signs, when i think back, how did
i kid myself that people didnt know i was a flaming
queen! a fourteen year old becoming politically active
and aware by supporting a disembowling drag queen!!??
I also found a heap of cassettes at mums that i'd
taped using a little tape machine i'd set up in front
of the tv speaker, they were full of Bette Midler and
Debbie Harry interviews! and i DO remember my
mum saying to me once 'Dont you think you should like
younger girls?' .. seriously another 'You should have
known' moments.
Please enjoy my humble little tribute to someone who
touched a closeted young queen in Wollongong with her
guts and glory at a time when Australia was a lot harsher place ..
Joylene Thornbird Hairmouth ..
Below: This is a screen capture from the 'I'm not like everybody else' video, i love Joylenes Christine Mcvie wig here.
Below: Screen captures from the video for 'Product of your mind' i think i remember reading at the time that this was filmed at WIN 4 studios in Wollongong, i remember being quite excited when i heard that .. being a Gong boy and all, this promo is most amazing for the mere fact that never at any other time was Joylenes 'Blade' wig so majestically displayed, there are a couple of photos below that capture the true splendour of the beserk cranio bush.
BELOW: I just have to comment on the screen capture below, just look at the confidence in Joylene, she looks like nothing in the world could take her on, not even Gamera or Ghidra on speed, the 'Blade' wig is fully extended and shown here for the weapon it was .. a weapon of fashion, extended like the arch of a peacocks tail. Please take note in this clip how Joylene attacks the keyboard with stabs of her hands, i cant help but feel Joylenes style of playing was somewhat influenced by the clips of the keyboard player in Lancelot Link and the Evolution Revolution
Below: A still from the 'They wont let my girlfriend talk to me' video, to me Joylene looks just like Maggie Dence who played Aunty Rose Sullivan in the tv series of the same name
Below: Maggie Dence (I need a pic of her as Rose Sullivan so you can see what i mean)
Below: Joylene really was the ultimate rock chick.
Below: Cabaret Joylene.
Below: An example of my Joylene art.
Below: Joylene the minx.
Below: 'Joylene Unlimited' Hmmmmm, i think Donnie Sutherland who hosted Sounds Unlimited must have had a soft spot for Joylene as i can recall at least a couple of interviews with Joylene on that show (OH to have had a video recorder in those days) as you can see by the photo producer Allan Carr was on the show once with Joylene, and even (gulp) got to don her famous 'Blade' wig.
Below: Joylene more recently with Vanessa Wagner, proving she is still all class and beauty.
Below: My favorite photo of our beloved Joylene Thornbird Hairmouth, Thank you Joylene from the heart of my bottom, for without realising it at the time you helped form, nurture and encourage that part of me that likes to dance around and step outside the square, while others are content to stay inside it and never feel the joy of being unshackled from societies mores.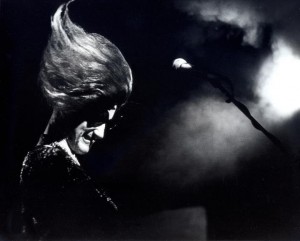 Not sure of the names of the photographers, i know Bob King took a lot of Joylene, please contact me so i can give credit.
Tags: Australia, Camp, DNA Magazine, Fair day, Gay, Guys, Joylene Thornbird Hairmouth, Kings Cross, Lesbian, Lost Gay Sydney, Mardi Gras, Melbourne, Men, Newtown, Number 96, Retro, Sydney, Television