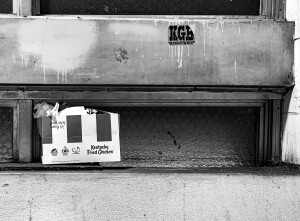 I think sometimes in moments of stress and anxiety, our bodies and minds need a little breather from reality. At times, these moments can be found in dreams.
I just woke from one such dream.
A few friends and I were walking through 'town' (if you're from the Illawarra, you know where I mean). Finding a little community hall in the park we pushed the door open and found a small group of elderly people. Some slow dancing, some jiving to the music coming from a small dancette record player on the floor.
Michael Parkinson was there dancing with a lady. 'Oh no, this is some swingers thing', but no, Michael was dancing with his wife. I thought, 'Oh, this is pleasant!'.
An old dear walked up, hands soft and gentle from frequent dabs of Ponds, and asked if I would like a cup of tea. 'Oh yes please!', and it was served to me in fine bone China (In this dream I was spared the hideous sight of people scarfing coffee down from plastic lidded cardboard cups, VUL-GAR!).
As I looked around I could see the walls and tables covered with all sorts of things. I asked a lady who was wearing white snap on kid gloves what all this was. She explained that everyone brought in things to sell they no longer wanted, to pay for their craft items and lessons. Can I have look? Certainly, would you like another cup of tea? Yes please!.
All around me people were talking softly with perfect, impeccable manners.
All the ladies are wearing white gloves, how civilized!
Venturing over to the tables, my eyes widened to the size of the fine bone China saucer in my hand. Before me was every issue of TV Week and TV Times magazines from the 1970's I'd ever dreamed of owning. Mint copies, all the Number 96 covers, and all only a dollar each.
'Would I like another cup of tea?', yes please!. I looked up at the wall, and there I saw a Tammie Fraser Halloween mask with real hair, for only ten dollars. I was squealing inside like Dr Smith. 'Can you believe this! only ten bucks!' I mouthed politely, and quietly, to my friends.
All around me were flagrant displays of gentleness and manners. 'Would you like another cuppa?' Yes, thank you.
Looking down I could see crates of records. Multiple copies of Bernard Kings 'Kitchen man' album (that's not a dream, I do now own multiple copies of that album, different pressings and labels). There, staring up before me, was a mint copy of Miss Marilyn reading 'Peter and the wolf'. I sunk to my knees, it too was only a dollar. I clutched it to my bosom and let out a heaving sob.
With my swag in my arms I asked a perfectly coiffed and groomed lady, where should I pay. With her Persil white gloved hand she pointed out it was an honor system, and to simply drop some money in a tin. She then showed me how later they would teach me in craft classes how to fold and wrap paper. We all turned as someone opened the door, and we could see the sky outside was lovely and blue.
Then I woke up.
If anyone doesn't think that is THE perfect day, then I absolutely don't know how we're related, or friends.
Tags: Australia, Brisbane, Camp, Cinema, Dining, Drugs, Elizabeth Street, Engadine McDonalds, Facebook, Fair day, Fashion, Feet, Flinders Street, Food, Gay, Gold coast, Guys, John Waters, Kings Cross, Lesbian, Mardi Gras, Melbourne, Men, Midsumma, Movies, Newtown, Porn, Retro, Social media influencer, Stoner, Sydney, YouTube