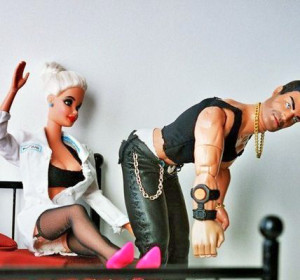 I'm a little emotionally drained today, as I'm sure you all are after hearing
the news that Ken and Barbie have split up.
The MD and press officer of Mattel held a press conference to make this announcement.
I'm pretty stoked tho that it's a polyethanol Aussie stud, 'Blaine the boogey
boarder' that is now getting to rub mounds with Barbie. Lets face it, once
Ken came accessorised with grey slip on shoes with zips, he was rooted
as far as Barbie was concerned.
I don't think GI Joe would be that interested now either.
I wonder if they have a shelter for all the unwanted and
unloved Ken dolls?. A group where all the discarded Kens meet up and have
workshops, with butchers paper, and rebirth and curl up in the foetal position?
(probably not, Kens legs don't bend do they, just another reason for GI Joe to brush him off).
Still, it was good of CNN to make it the lead story, it's not like anyone want's to deal with reality these days.
Tags: Adelaide, Australia, Brisbane, Camp, DNA Magazine, Drag, Fair day, Gay, Gold coast, Guys, Kings Cross, Lesbian, Lost Gay Sydney, Mardi Gras, Melbourne, Men, Movies, Newtown, Porn, Retro, Sydney