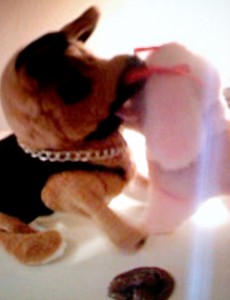 I can't begin to explain why, but i've always had a facination for, and collected mechanical, motorised dogs.
Recently during a clean up of my computer i found these two short movies i'd made of my 'Electro pets' (The clips can be found at the bottom of this post highlighted in red).
My favorite is the second clip showing my favorite dog 'Samson', sadly as you can see in the movie he has two broken hind legs, Samson was my best trick electro dog, and used to be able to do summersaults, that is until my mate Adam decided the pooch should try summersaulting from the top of a high cupboard.
Unfortunately Sampson only executed one jump before landing on the cement floor, shattering his electro pelvis.
The 'Ping' noise you hear is his nethers engaging electronicly to flip him over, sadly with no feeling, or functioning mechanics below the waist, the most he could muster was a stunted, slight bounce.
Tragicaly Samson has now gone to the electro dog house in the sky, after succumbing to poisoning due to a battery leak.
Tags: Australia, Camp, DNA Magazine, Fair day, Gay, Guys, Kings Cross, Lesbian, Mardi Gras, Melbourne, Men, Newtown, Retro, Sydney, Television