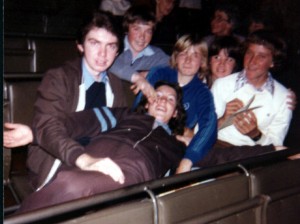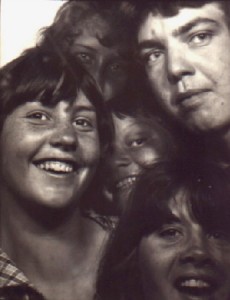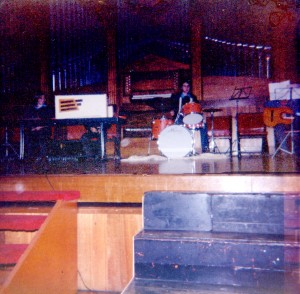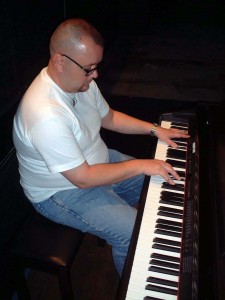 Continuing my trawl throught the recessed bowels of the "Tingle Audio Archives", i came across a tape with a little more personal tie to me than just some obscure 70's 'B' side. May i present to you the lilting sounds of my school band featuring me on drums (and Valium).
Our school was so povo our music class didn't even have real instruments, so me being the drummer i managed to cobble together a kit made up of mostly toy drums, and most ingenious of all, an upturned coffee table upon whose legs i used as cymbal stands, and one small cymbal taped to a table to use as a high hat.
We entered the district schools competition to play at the town hall, the organisers came to our class, and seeing our shits nest equipment instantly put us in the line up (No doubt to ad an element of the Avant Guarde), i vividly remember them commenting on my home made kit.
We played two songs, one an original titled 'Changes' written by our class mate Muz, the other heard here was called 'Start the beat'. I'd never been on stage before, and i'd never played a real drum kit either, so there was only one thing to do to soothe the jitters .. perloin some Valium, which in those days was in bountiful supply in most family bathroom cabinets, i gobbled up a couple of pink pills and was set for a night in Showbiz (Not to be my last).
I had the forethought to take along a camera and a small cassette recorder. By the time we arrived at the venue the pills had kicked in, or as we later professionally learnt 'Came on'. The band comprised of me on drums, Muz on 'Organ', Vincent on piano, Ray on guitar, and Sandra and Leena on percussion.
My most precious memory of the evening was just before the curtain went up, a roadie came out and mic'd up Ray's acoustic guitar, the look of panic on his face was gold, in the whole time we spend rehearsing for this, Ray had managed to learn one chord, 'C', now what we were playing was pretty simple, but playing a 'C' chord for the whole song was not gonna cut it, just before we started playing i reached over and spun the mic around so it was actually facing away from the guitar (he never did thank me for saving his ass from a public humiliation).
And so we played, i think we done pretty well considering the circumstances. I love listening to Vin on the piano here, you can hear his natural ability shine through
My big moment comes at the end when earlier in the afternoon one of the other drummers from another school said to me 'You should do a solo at the end', and so with no idea how to play a solo, or really how to play a proper kit, i pulled something out of the bag, and i think you can actually hear the effect of the Valium on me as i play a long, slow rolling fill.
I was chewing gum through the performance, but with the effects of the Valium on my young, impressionable body taking hold, apparently my jaw was chewing at about one mastication a minute, which i believe is quite slow, almost zen like in the gum chewing stakes.
The recording is pretty rough, Mrs Rogers put the recorder on the floor, behind her legs and Dorrie Evans-esque billowing, flowing, brynylon Osti frock, so the sound is a little muffled.
My class was standing at our next scool assembly (Atten-SHUN!!, at ease!) where all the anouncements were made, as per usual we stood through a constant stream of praise and arm waving for every two bit sporting achievement that week, and our class representing the school never got so much as a mention, not a peep, whisper, stiffled aside .. not even a cursery alluding to. To this day i still carry a venemous dispisement of all things sport and sporty*, all because of this slight.
It's not quite The Beatles 'Starclub Tapes' but if you click "HERE" you'll get to hear our youthful enthusiasm.
*Sweating AFL players excepted.
Tags: Corrimal High School