Posts Tagged 'Wollongong'
Friday, May 13th, 2016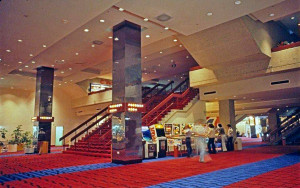 Just saw this old photo of Hoyts cinemas posted in a retro group.
Talk about a flashback, decades ago it was at these very pinball machines that I came out to one of my best strait mates.
'Hey, guess what?, I'm gay'.
"Oh yeh?, cool. Can we concentrate now, we've almost got the highest score on Terminator".
Alas, I didn't get my fill of drama that day.